Drop-ins $15 per class = $60, (Pre-Class Materials not included)
Pre-Pay, $12 for 4 week session = $48 + Includes Pre-Class Materials (See Below)
Where: 7840 Manus Rd. Readyville, TN 37127 at Spirit Oak Lodge Retreat Center (located 13 min southeast of MTSU) https://www.spiritoaklodge.org/studio
When: Tuesdays, Nov 14, 2023 for 4 weeks
Time: 8pm to 9pm
Join me for a special 4-week Belly Dance series studying the Karsilama 9/8 rhythm
In this class we will learn about the rhythm Karsilama 9/8 thru the use of Turkish Dancing spoons. We will play with 25 yard skirts that give beginners an easy first steps into the Turkish Romany style of bellydance. Spoons and skirts will be provided for the first 6 enrolled. Will have substitutions available thereafter.
Prepare to learn the basic elements of belly dance - simple and elegant isolations, rhythmic shimmies, and graceful undulations. I am committed to offering a supportive, fun, and non-discriminating environment where you can build your muscle memory for dance, and yes, discover muscles you never knew you had! No pressure to perform or improvise a solo in class. Blend in if you like and just let your body passively move and groove to the music.
If you've never danced before, fear not! This Belly Dance Basics class is specially designed for beginners and those looking to revisit foundational techniques. By the end of this series, you'll be amazed at what your body CAN do.
Enroll below and receive immediate access to all the Pre-Class Materials that are not offered to drop-in students. Each week a class videos will be added for you to download and practice with. Drop-ins are invited to take their own videos in class to take home. *Be sure to download all materials before the session ends, as they will be removed in preparation for the next class.
I look forward to meeting and dancing together soon.
There are eight (5-week) series in the Beginner Level. Each named for a different Arabic rhythm. We focus on moves specific to each one and go over them in different ways so you do not need to practice at home and will finish the series with a true understanding in your mind and body of the rhythm and the movement vocabulary.
1. Saidi 4/4
2. Baladi (Masmudi Saghir/Kabir) 4/4
3. Maqsum/Maqsoum/Maqsoum sareea 4/4
4. Ayub/Ayoub 2/4
5. Chiftetelli 8/4
6. Khaliji/Khaleegi 2/4
7. Malfuf/Malfouf 2/4
8. Karsilama 9/8
Your Instructor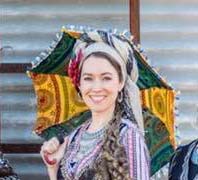 If you enjoy learning, crafting, dancing, music, books, travel, and building friendships... then I want to meet you!
Originally from Middle Tennessee, I have studied BellyDance since 2004, performing with bands, at conventions, in festivals and music videos. Through weaving my love of Tribal Improv/Fusion, Egyptian, Folkloric, Romani, Persian, Flamenco, and Latin dances, I hope to connect dancers together through the language of movement. There are so many styles and teachers of BellyDance to experience. I can teach you the basics but the rest is up to you. I believe that through BellyDance, people can learn to accept and love themselves no matter their size, shape, or age. Come learn to love yourself with me.
New dancers, community dancers, non dancers, bad dancers, shy dancers, geeky dancers... All are welcome!
Certifications I have completed:
Certified Level 1 Teacher of Global Caravan Dance (GC Style)

Certified Global Caravan Dance Grooves Instructor

Dance Cohesion Stage 1 Teacher
Course Curriculum
Class Materials
Available in days
days after you enroll
Frequently Asked Questions
When does the course start and finish?
The in-person course starts Tuesday, August 15, 2023 at 8pm and lasts 5 weeks. New videos from class will be added every week. You have access to pre-class materials once you purchase the course.
How long do I have access to the course?
You have access to the information in this course till Monday, Sept 25, 2023. Please download all videos and handouts before this date.